Back
Deerfield BGC Crowned Lights On Talent Show Champs
23-10-21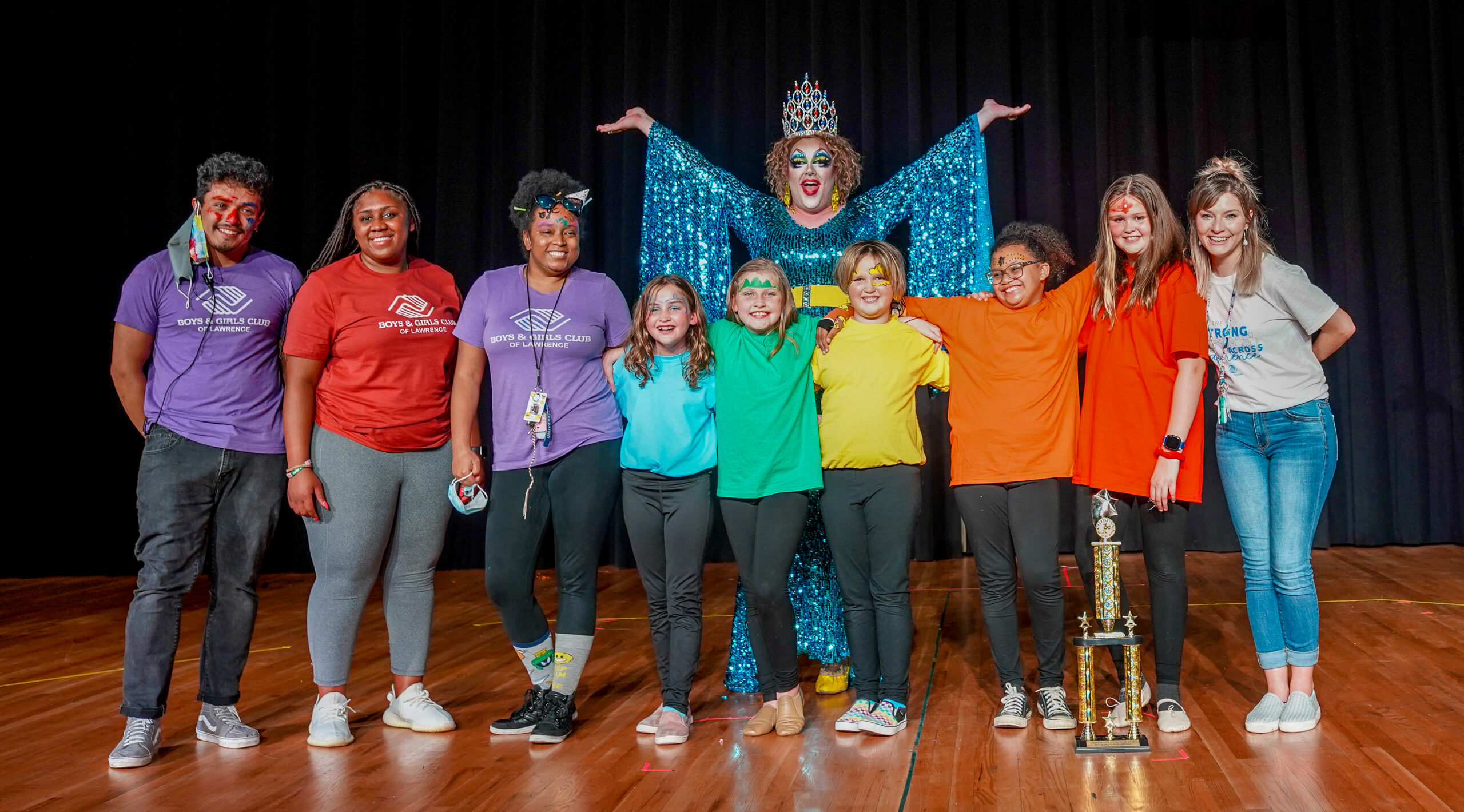 LAWRENCE, Kan. – Kathryn Watson-Jackson has been a choreographer for 10 years in her time working and volunteering at the Boys & Girls Club of Lawrence. A true testament to long-term mentorship, 'Ms. Kit Kat' led the Deerfield Elementary site to its first-ever Lights On Talent Show trophy, Friday night on the Liberty Memorial Central Middle School stage.
Presented by McCarthy Auto Group, the Lights On Talent Show ended in a very close race, with Deerfield in first place, Langston Hughes Elementary in second and Woodlawn Elementary finishing third. Regardless of winners, every Club site put on a stellar performance. No surprise there, considering Cordley BGC danced to a mash-up of Journey and Elton John, the Hillcrest BGC team busted out moves for Britney Spears and Demi Levato and the Center for Great Futures rolled out to Daft Punk and Pharrell. From handmade sparkly masks to spinning umbrellas, the level of creativity reached impressive heights on Friday night.
"My favorite part of Lights On is actually coming to dress rehearsal and seeing what all of the other sites put together," Jackson said. "The other teams were all super creative, colorful, with all the props and fun stunts. I was so excited to watch all of them. But, after we heard third and second place, I was thinking the same thing the kids were, hoping, 'Deerfield! Deerfield! Deerfield!' and it was Deerfield!"
The 2021 talent show theme, "Strong Across Lawrence," celebrated the resiliency this Club and this community has shown in its recovery from a devastating global pandemic. Nearly 1,400 kids attended BGCLK each day before COVID-19 forced drastic enrollment cutbacks. While the Club has reopened all 14 of its sites, the feeling of normalcy has not yet returned. Friday night was a great reminder of the unique experiences that Boys & Girls Club provides for youth in Lawrence.
"I love this event," BGCLK CEO Monica Dittmer said. "Lights On matches up mentors with the kids they serve on an actual stage! It takes so much work on top of the workload this staff shoulders already – and that's why these mentors are so important. You can see how these kids and teens learned their dances from their Club staff, and they can't wait to show it off on stage. Watch their faces when the performance ends and they hear the crowd cheer for them, they are absolutely beaming. It's just the best. I'm so proud of every single one of them."
Ms. Amanda Love, the 2021 Miss Gay Kansas United States, served as a brilliant emcee and even included a performance of her own. She kept the crowd entertained throughout the breaks in the show, not that the young performers needed much help in that department. Needless to say, the toughest job belonged to the panel of judges.
A group of six volunteers were tasked with scoring the dances in categories such as degree of difficulty, creativity, effort and overall flash. The 2021 Lights On judges were: Karl Kramer (McCarthy Auto Group), Amy Kelly (Theatre Lawrence), Hannan Misko (Lawrence Arts Center), Sarah Matthews (Rock Chalk Dancer), Mackenzie Thomas (Rock Chalk Dancer) and Gracie Link (Rock Chalk Dancer).
Watson, who started choreographing Lights On events when she was still in high school, told her Deerfield dancers likely the very same thing that all of the choreographers told their kids.
"I am super proud of them," Jackson said. "They asked me the same question, too, and I told them I would always be proud of them either way."
BGCLK serves many purposes, including facilitating a sense of belonging and creating opportunities for youth that they may not get to experience otherwise. Such as the chance to shine on stage for all of the families, friends and fans in attendance. The Lights On Talent Show does exactly that. What's more, the Club offers a variety of physical exercise through sports leagues, but Lights On is a great way to stay active through dance.
Launched in October 2000, Lights On Afterschool is celebrating its 22nd year. This is the only nationwide annual event celebrating afterschool programs and their important role in the lives of children, families and communities. The national celebration of Lights On Afterschool Day is a tribute to the organizations across the country that keep their "lights on" after school hours. Approximately 8,000 afterschool programs are expected to participate in the 22nd annual Lights On Afterschool, holding rallies, science fairs, student performances, community service events, sports competitions and – in Lawrence's case – a talent show.