Back
Boys & Girls Club Leaders Recognized at Kiwanis Honors Dinner
05-11-21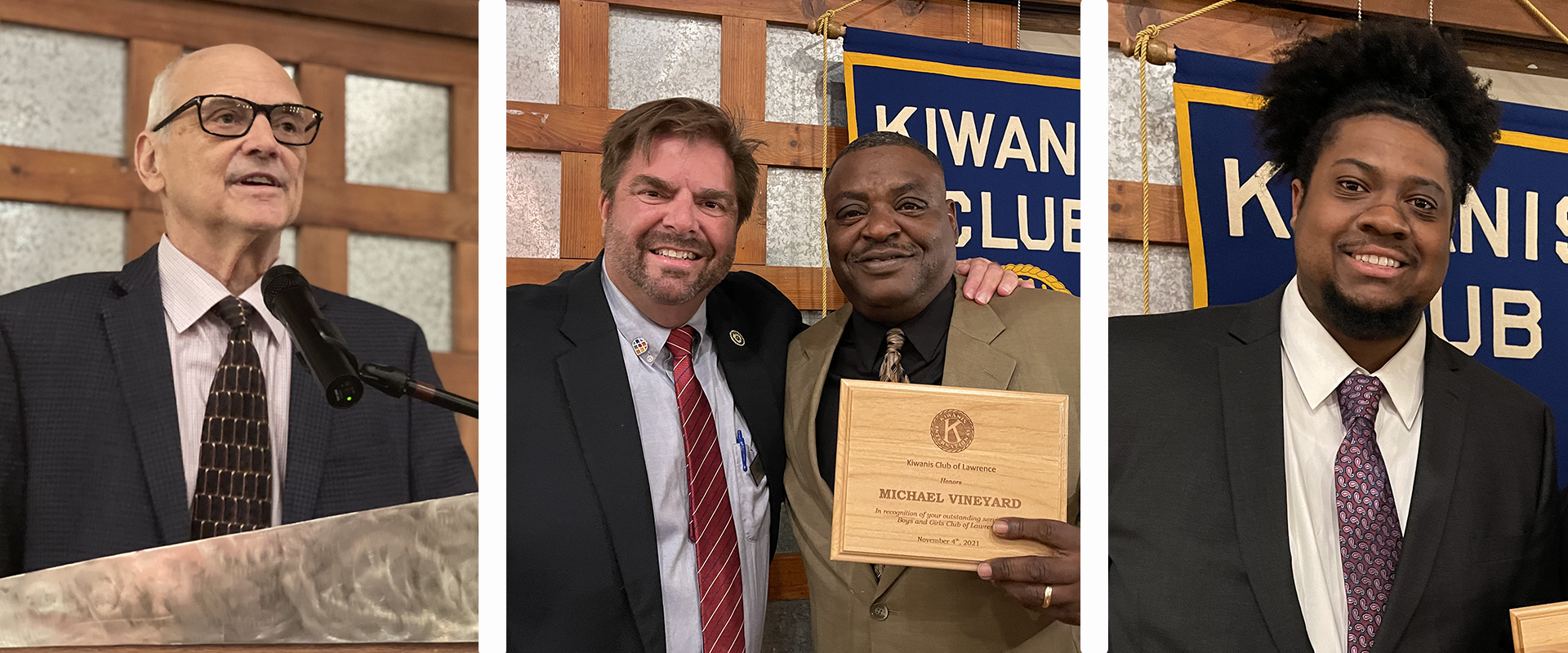 LAWRENCE, Kan. – The Kiwanis Club of Lawrence hosted its fifth Honors Dinner to benefit the Boys & Girls Club of Lawrence, shining a heartwarming spotlight on two long-standing community organizations. A pair of remarkable BGCLK staff members and a beloved volunteer were recognized for their service to the organization in the areas of leadership, service and dedication to empowering youth in Lawrence. 
COVID-19 canceled the 2020 award ceremony, pausing the consecutive years celebrated, but the fifth year of the event didn't miss a beat. The evening concluded with Kiwanis Club President – and Boys & Girls Club board member – Matt Llewellyn presenting the Club with a $5,000 donation. The generosity capped a night full of emotion, pride and gratitude for the three honorees.
"I'm not sure there was a dry eye in the place while those gentlemen were speaking," BGCLK CEO Monica Dittmer said. "Each of them has not only made an impact – they've truly changed lives. I am proud to simply be in their company."
Chris Austin (Program Specialist, Center for Great Futures), Michael Vineyard (Group Leader, Center for Great Futures) and Randy Weseman (Volunteer, Former USD 497 Superintendent) were selected as the Boys & Girls Club award recipients for 2021. Voice of the Jayhawks, Brian Hanni, served as the emcee for the awards portion of the evening. Each honoree was introduced by one of the people who nominated them for their awards. Thus, setting the stage for a moving tribute to each of the three gentlemen.
Megan Hill, BGCLK Director of Donor Engagement, introduced Austin. After taking time to thank the Kiwanians for creating this special event to celebrate Boys & Girls Club, she turned her focus to her honoree. Hill read every nomination that Austin received from his peers. Austin is a full-time member of the Center for Great Futures staff, and while it's clear his staff and teens love him – he reached a new level of clutch when he took on multiple leadership roles after his former coworkers accepted new positions elsewhere. From cooking dinner to leading Keystone Club to recruiting Youth of the Year candidates to mitigating teens in crisis, Austin showed up for all of it.
"Working with the kids has been one of the greatest opportunities for me to grow, not just as a mentor, but as a person," Austin said. "When I started, I had no idea what I was doing with myself. I thought this would be a part time job. I started with kindergarten, and it's funny because now I work with our teens, and those same kindergartners are now freshmen in high school. It's really come full circle for me. Everyday I wake up and I'm thankful for the opportunity to better someone else's life and to be the person I would have wanted when I was a kid." 
Vineyard is a longtime group leader at the Center for Great Futures. Alissa Bourneuf, BGCLK Director of Marketing & Communications and one of Mr. Michael's countless fans, introduced him. Bourneuf explained to the crowd what his teens see every day, that Vineyard cares so deeply for the teens at the Club and puts his whole self into building trust with youth. He is also the beloved "Commissioner" of the Ball 4 All league. This league provides an opportunity for any teen who is interested in playing basketball. Whether he is coaching a skilled, longtime basketball player or a new member playing basketball for the first time, Vineyard treats everyone with the same enthusiasm and respect.
Joined by his wife, children and two of his grandsons, Vineyard took the podium with tears in his eyes.
"I want to thank Kiwanis for making this dream possible," Vineyard said. "A lot of people want to give up on kids, and believe me some of them are hard headed. But every day, to come to a job where you have the chance to change somebody's life, that's living the dream. I always think of the mission… To enable all young people – especially the ones who need us most. That line right there gets me every time. There are so many of them who need us, y'all."
Last, but certainly not least, the evening's final honoree was recognized. Randy Weseman is a treasured member of this community and known by nearly every former student and educator in Lawrence. Weseman began his journey in USD 497's administration as an assistant principal at West Junior High after teaching at Liberty Memorial Central Middle School. He went on to hold numerous prestigious positions before earning the role of Superintendent of Schools in Lawrence. As he rose in the administrative ranks, he never lost sight of the main focus: the kids.
Llewellyn, the evening's host, took the leadoff spot in introducing Weseman. He first met when Weseman taught him in ninth grade. Llewellyn credited him for being the first teacher he really worked hard to impress. Next to the mic was Mick Lowe, a retired educator and principal in Lawrence and Topeka who shared many memories of his dear friend of nearly 40 years. He regaled tales about hiring Weseman for the first time to be an assistant principal at West Junior High back in 1984. Then another about an adventurous trip to Lawrence's sister city, Hiratsuka, Japan, while Weseman served as the program's Head of Delegation.
What many don't know is Weseman played a pivotal role in opening Clubs directly in elementary schools in the late 1990s. Now, BGCLK operates a Club in every USD 497 elementary school thanks to his championing of the Club. Most recently, Weseman volunteered to lead the nationwide search to hire a new CEO at the Boys & Girls Club of Lawrence. He stepped in to lead the major undertaking with great care and consideration. He was instrumental in the Board of Directors selecting Monica Dittmer as the next CEO.
When it was Weseman's turn to take the mic, he did what he always does. He made it all about everyone else. He introduced his children, his friends and his wife with such pride before moving on to others.
"I want to thank Matt Llewellyn and the Kiwanis Club for this recognition," Weseman said. "Everybody here has some significant meaning to me, and it's so good to see you all. The Boys & Girls Club was a long work in progress. It took years, if not decades, to do this. I remember talking to Al Hack when we were deciding to put Boys & Girls Clubs in each school. Now that's a model used throughout the United States. The reason is because of the hard work of the people at the Boys & Girls Club."
Then, on a night that was meant to recognize him and his fellow honorees, Weseman asked everyone who works at the Boys & Girls Club to stand and be applauded.
"I remember we met quite a bit and talked a lot about what they were looking for in their next CEO," Weseman continued. "I remember thinking, 'I wish I were younger. I'd like to do this job.' Because this is a dedicated staff. This is a staff that cares about kids, it comes from their heart and their soul. These people are talented. They could work anywhere; they could do anything. But they gave their young professional lives to this entity. I can't thank you enough. Thank you for recognizing all of the award winners. Thank you for what you do, and for supporting this great community. This is my community; I've been here for 50 years. I'm so proud of Lawrence, Kansas. I'm so proud of you all."