Back
Arabella Gipp Named 2022 Lawrence Youth of the Year
28-01-22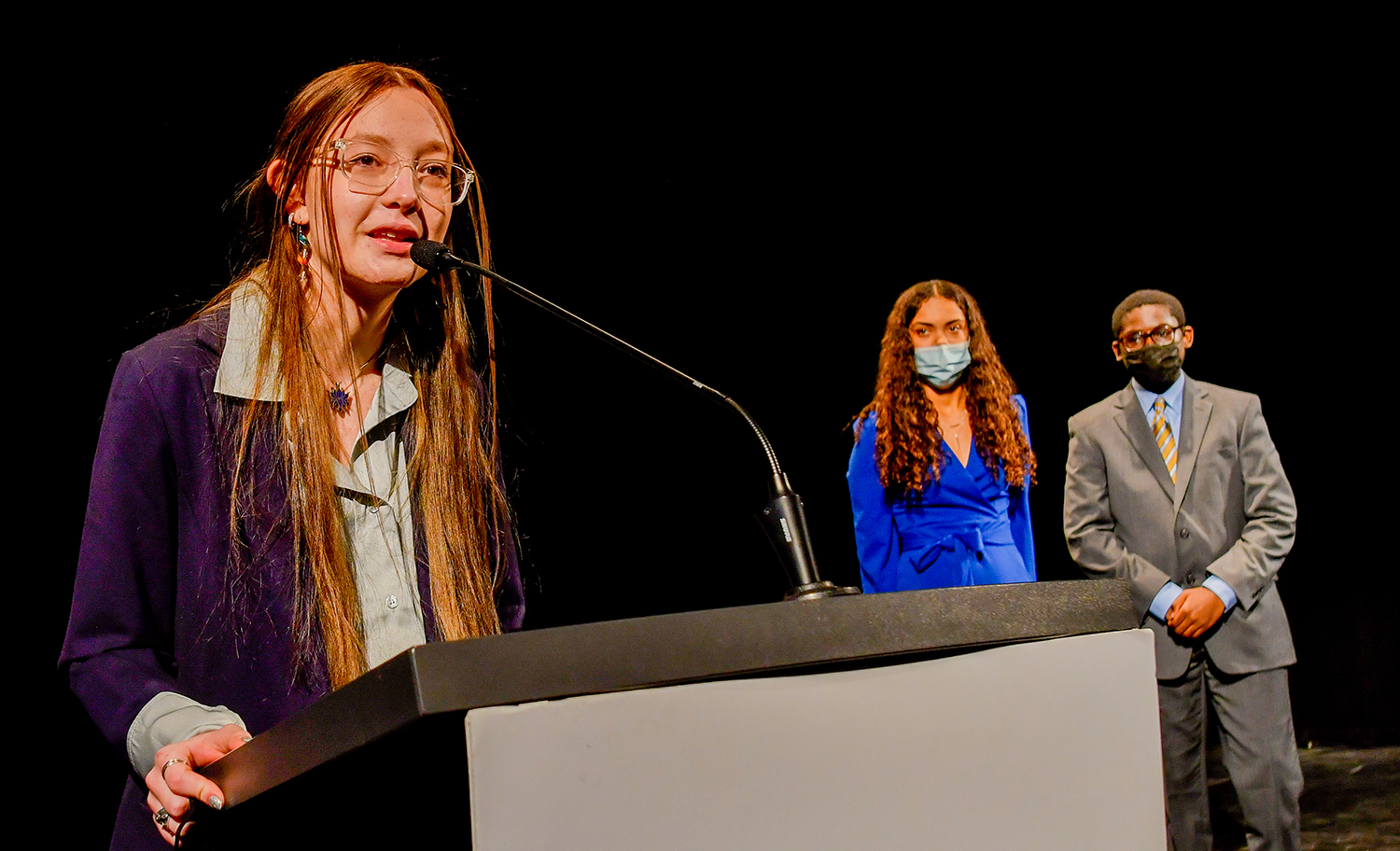 LAWRENCE, Kan. – Arabella Gipp needed a minute to process what she heard on stage at Liberty Hall Thursday night. She, Azura Clark and Ohene Danso had all given outstanding performances, but when the final scores were tallied it was Gipp who earned the 2022 Lawrence Youth of the Year honors.
A freshman at Lawrence High School, Gipp had a characteristically humble – and humorous – thought flash through her mind.  
"I was like, 'Who?! Who did you say? ME?!'" Gipp said. "I had to gather myself for a second. I was in disbelief. I was kind of starstruck (about all the people in attendance) and didn't believe it was happening, but it happened. I'm here!"
The Boys & Girls Club of Lawrence (BGCLK) was overjoyed to welcome back an in-person audience after the 2021 ceremony had to be closed to the public due to the COVID-19 pandemic. More than 200 family members, mentors, community supporters, donors, teachers and friends were equally thankful to be back in attendance.
"My heart is so full," CEO Monica Dittmer said. "Tonight was exactly what I needed. What our supporters needed. What our community needed. I've been doing this for a long time. But I believe those three young people up on that stage tonight delivered collectively the best speeches I've ever heard. I'm honored to know them, and I'm excited for the future. Arabella is going to be a wonderful representative for our Club next month in Topeka."
After being announced the winner, a stunned Gipp gave a brief but heartfelt acceptance speech, thanking her No. 1 – her mom, Jessica Gipp, as well as her fellow candidates. It was quite apparent that the trio thoroughly enjoyed rooting for one another. She also thanked her longtime mentor and a two-time Kansas Youth of the Year, Ruth Gathunguri, who drove from the University of Arkansas to be in Lawrence as Gipp's mentor on Thursday.
"Going through this Youth of the Year process with Azura and Ohene – it's just so much fun," Gipp said. "We got super close. I was already kind of friends with them in the beginning, but we really clicked. I think we will be pretty good friends from now on. It also means so much to me that Ms. Ruth came here. I love her so much. She took the time to come here from school, and that feels really special. I feel loved."
Presented by Mid America Bank, Youth of the Year celebrates the life-long relationships that kids develop with the Boys & Girls Club. Those students who earn a Youth of the Year nomination embody the values of leadership service, academic excellence and healthy lifestyles. They exemplify the powerful impact that the Boys & Girls Club has on kids in Lawrence.
Gipp exemplifies exactly that. She began going to Boys & Girls Club as a kindergartner. She joked that she has been writing her Youth of the Year speech almost that long. The first-year high schooler opened up about being diagnosed with anxiety after finishing eighth grade, and the pain of losing her Nana after growing up in a single-parent household.
Just like Gipp, Clark and Danso showcased their own remarkable qualities. Clark delivered a speech about her passion to help the homeless community in Lawrence, remarking how proud she was to implement a supply drive for some of the highest needs. Danso admitted to the audience how difficult it can be to live in the shadow of his older sister's numerous academic achievements, but has learned to communicate better and appreciate his own talents so much more thanks to the Club.
All three shared their own unique and vastly different stories, but one common theme stood out: their love and gratitude for their mentors.
"Boys & Girls Club is a fantastic example of finding the good," said Amy Kelly, Vice President of the BGCLK Board. "The kids and teens that spend their time in Clubs before and after school reminds me that we are doing something right. Ohene, Arabella and Azura, don't ever doubt how important you are."
To select the winner, the panel of judges (Brandon McAnderson, Amber Sellers, Jeff Hill, Hossein Gerami, Beth Llewellyn, Dr. Daniel Ranjbar and Dr. Kortney Carr) interviewed each candidate and gave their application packets a complete scoring review. The speeches given during the evening's program accounted for the final piece of the puzzle.
Gipp will represent Lawrence as she advances to the Kansas Youth of the Year competition. State winners advance to regional competitions; regional winners advance to the National Youth of the Year event. Boys & Girls Club of Lawrence has produced the Kansas Youth of the Year in five of the last 10 years, most recently being Gathunguri in 2019 and 2018.