Back
Arabella Gipp Named 2022 Kansas Youth of the Year
15-03-22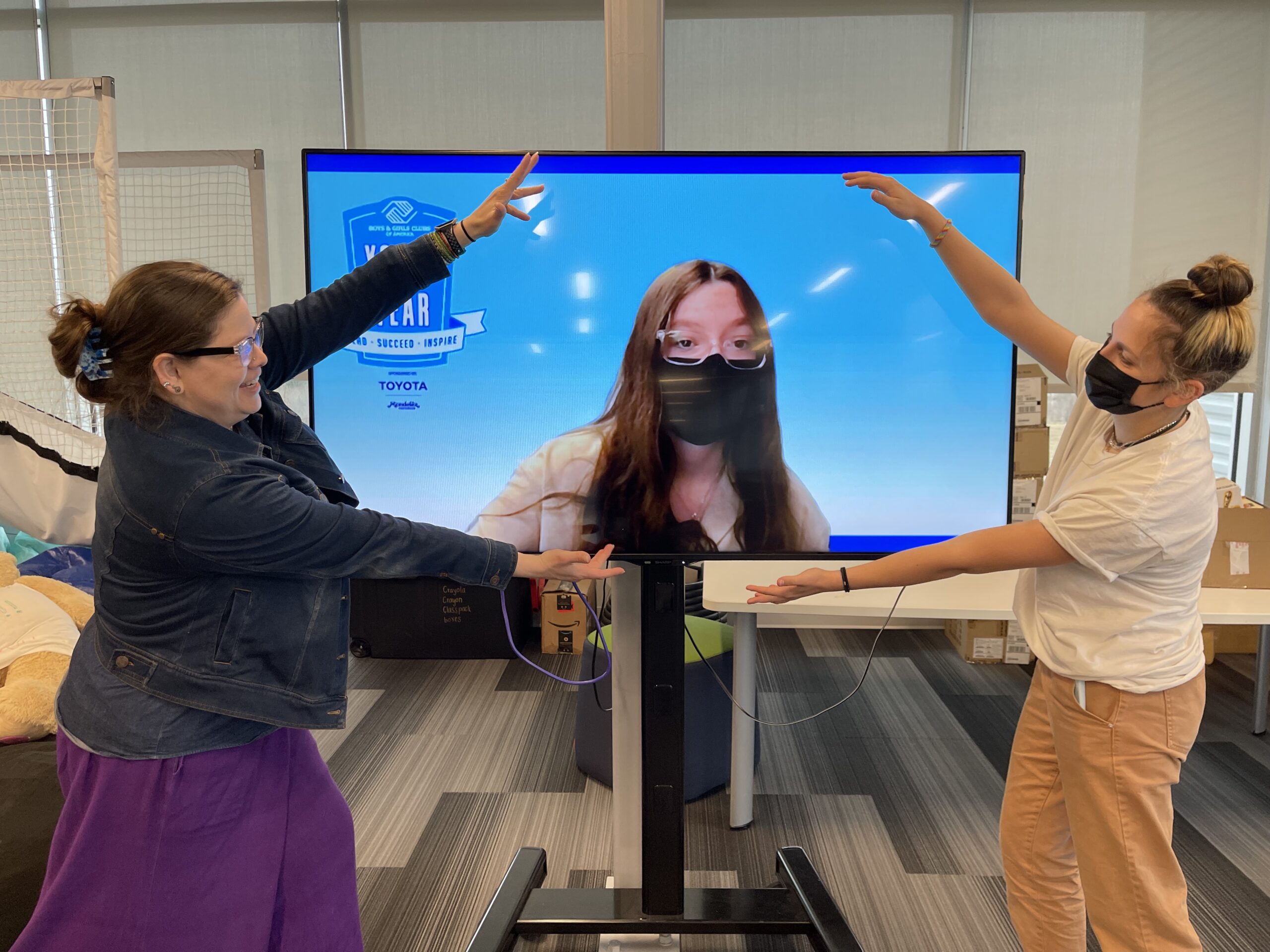 LAWRENCE, Kan. – Arabella Gipp looked directly into the laptop on CEO Monica Dittmer's desk and delivered a flawless speech. Although the crowd was smaller than a traditional Kansas Youth of the Year ceremony, it was exceptionally special. Her Boys & Girls Club of Lawrence mentors were alongside her when they heard the virtual announcement, declaring Gipp as the 2022 Kansas Youth of the Year.
Just like the local event, Gipp was stunned to hear her own name called as the winner. The Lawrence High School freshman will now go on to represent the state of Kansas in the Boys & Girls Club Southwest Region Youth of the Year competition on June 10.
During her speech, Gipp talked about starting at the Boys & Girls Club as a five-year old. She has since been amazed by how far that little girl has come.
"That little kid did not think we would be here, but we are showing her," Gipp smiled. "When growing up as an only child, I really didn't think I would accomplish that much. I thought it would just be me and my mom forever, but that is changing very fast. Now, representing Kansas is kind of scary, but we will say where it takes us."
Boys & Girls Club of Lawrence has produced the Kansas Youth of the Year six times. The last time a Lawrence candidate won the Kansas competition was Ruth Gathunguri, who won back-to-back in 2018 and 2019. Fittingly, Gathunguri is Gipp's cherished mentor.
The Kansas Youth of the Year ceremony was held in a virtual setting for the third-consecutive year. To support technology needs, Gipp's bonus mentors Ethan Clapsaddle (Director of Teen Services), Chris Austin (CGF Program Specialist) and Dittmer put together a watch party at the Center for Great Futures.
"They were jumping up and down when they heard my name get called," Gipp said. "I was in Ms. Monica's office, where there are a whole bunch of windows – and I could just see people jumping up and down being excited and cheering. I had to keep my composure and stay on the Zoom meeting to get all of the info I needed."
Along with her BGCLK team, Gipp was joined by her No. 1 mentor – her mom. Jessica Gipp attended the Lawrence Youth of the Year event in person and watched her daughter shine on stage. Watching her deliver her speech on a TV screen was obviously different, but she was right there for it. She also brought Gipp's girlfriend and No. 1(a) fan, Giova.
"I was very surprised," Gipp said. "I really didn't know how today was going to go or who could be here. My mom brought up the idea of her coming here with Giova, and I was so excited. But I didn't think Mr. Jordan (Ott) or Mr. Chris would be able to stay for it. It means so much to me that they cared enough to stay and witness what was happening."
What's more, the 2022 ceremony marked the first time that the live video announcement was open to the public. Meaning, board members, donors, Lawrence Public Schools teachers and staff were also able to watch and hear the good news.
"That's what Boys & Girls Club is all about – mentors who are always cheering for you," Dittmer said. "Our entire organization is behind Arabella, and she is so deserving. Even though we are still living in a virtual platform for this event, that doesn't mean we won't pull out all of the stops to make sure it's a big moment. Arabella has earned every bit of this honor. We are incredibly proud of her."
Gipp shared her story about growing up very quickly as the only child of a single mother. Her Nana helped to fill the hole left by her absent father. But, when her beloved grandmother passed away, the heartbreak was staggering. Not long after, Gipp was diagnosed with anxiety and wrestles with her mental health daily.
In her speech, Gipp referenced the Club as one of the constants in her life. She started attending the Boys & Girls Club at the Schwegler Elementary site when she was in kindergarten. Gipp thanked her mom for knowing that she needed the support and guidance that her BGCLK mentors have provided, including Mr. Chris, Ms. Ruth and several more members of the teen staff.
Traditionally, the candidates – who are comprised of all of the local Youth of the Year winners in the state – spend nearly three days together in Topeka, getting to know one another, practicing with their mentors and participating in Legislative Day at the State Capitol. However, Gipp and her fellow candidates, enjoyed virtual social events and meetings until it was time for their interview time slots Monday afternoon.
Gipp was one five candidates across the state to compete. The other four coming from the Boys & Girls Clubs of Manhattan, Topeka, Hutchinson and McConnell Air Force Base. All were deserving, but it was Gipp who earned the title. She will travel to Dallas for the 2022 Southwest Regional Youth of the Year on June 10.